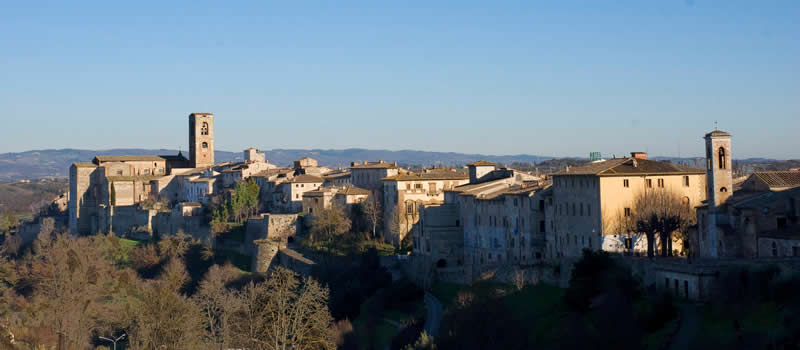 Distance from Antica Fonte Resort: 10 km
Famous as the native town of Arnolfo di Cambio, Colle is one of the most important centres of the Val d'Elsa because of the architectural beauties of Colle Alta and the crystal industry.
The town is divided in two parts: the old town, called Colle Alta, and the new part, Colle Bassa. The upper part is the oldest one and it is reached from Porta Nuova. The lower part, with its central Piazza Arnolfo is where the production activities are located.
Already in the nineteenth century Colle Val d'Elsa was defined as the Bohemia of Italy due to the production of Crystal. Today it is known worldwide as the City of Crystal and boasts 15% of the whole world production of crystal and over 95% of Italy's production.
The museums to be seen are the Municipal and Diocesan Museum of Sacred Art, the Ranuccio Bianchi Bandinelli Archaeological Museum and the Crystal Museum.
The Municipal and Diocesan Museum of Sacred Art, which is at the Town Hall or Palazzo dei Priori, dates back to the XIII – XIV centuries and contains precious collections of works by the Primitives.
The Crystal Museum shows the history of the production of crystal, from the origins of glass making in the XIV century to the XIX century factories to the modern production of Design items. The Museum also shows the old machinery.
Palazzo Campana is one of the most suggestive corners of Colle Val d'Elsa and its arch gives onto Via del Castello, the main street of the old town centre of Colle Val d'Elsa, where there are many patrician buildings like the Palazzo del Capitano, Palazzo Buonaccorsi, Palazzo Giusti and Casa Torre where the famous architect Arnolfo di Cambio was born.
Also worth a visit is the Baluardo, the defence rampart of Colle Val d'Elsa, which commands a marvellous view of the lower part of the town and of the Chianti area.
The two parts of the town are connected by the free lift system that works 24 hours a day.
At Colle Val d'Elsa it is nice to eat and taste good Tuscany wine among the alleys of the upper part of town in the small, characteristic taverns and wine bars the town has to offer. Views of narrow, suggestive alleyways and the scenic points over the valley make a visit to the City of Crystal an occasion not to be missed.