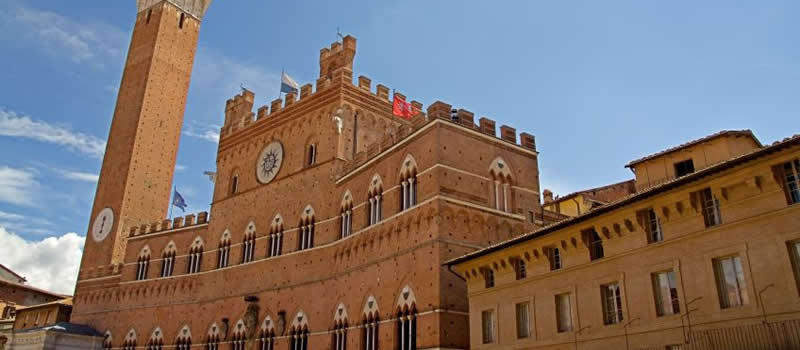 Distance from Antica Fonte Resort: 35 km
One of the most beautiful towns of Tuscany, Siena has been declared a Heritage of Humanity by Unesco.
Surrounded by the vineyards and olive groves of the Chianti area, the town of Siena stands on 3 hills.
Picturesque narrow alleys and streets with suggestive views lead to Piazza del Campo, the heart of the town.
Siena boasts many natural and artistic beauties:
Marvellous medieval and aristocratic buildings surround Piazza del Campo, which is shell-shaped and always fascinates visitors and large numbers of tourists from all over the world.
The Palazzo Pubblico, now the Town Hall, with its famous Torre del Mangia is certainly one of the major attractions.
The Siena Cathedral is one of the best examples of Gothic-Romanic style in Europe and contains priceless works and masterpieces such as sculptures by Donatello and Michelangelo.
The Cathedral Metropolitan Opera Museum, the National Picture gallery and the museum complex of Santa Maria della Scala bear witness to the town's very rich cultural heritage.
But clearly it is the Palio that makes Siena famous in the world: a historical horse race that is held every year on July 2nd and August 16th, the Palio is the major festival of all Siena's Tradition.