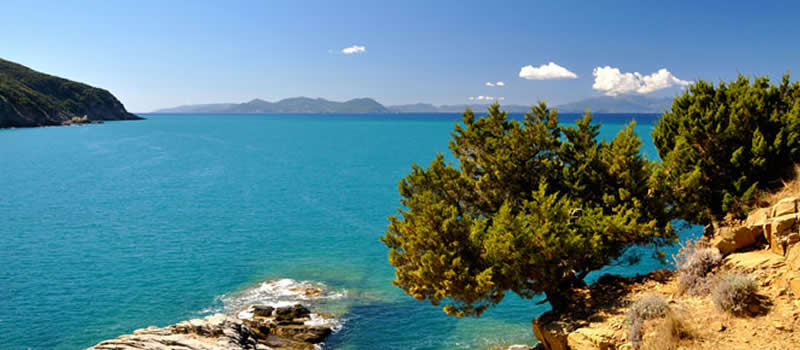 Distance from Antica Fonte Resort: 65 km
The Etruscan Coast is a land with a wealth of art and history, famous for its numerous Etruscan necropoles mainly between the Gulf of Baratti and Populonia.
The importance of history on the Etruscan Coast is witnessed by the Etruscan settlements by the sea, the museums with their wealth of Etruscan and Roman findings, the archaeological areas and the Baratti-Populonia Archaeological Park.
The medieval villages of Populonia, Bolgheri, Bibbona and Castagneto Carducci are precious little jewels tucked away in the greenery of the hills that overlook the sea and preserve intact the witnesses of a rich history of civilisation with centuries of historical and cultural traditions.
The sea is crystal clear with the most varied colours and has been awarded the European Union Blue Flags together with the coastal resorts due to the quality of the water and services.
There are light sandy beaches like those of San Vincenzo and Baratti and the 90 km of coast offer many opportunities for marine sports like underwater fishing, sailing and windsurfing.
There is lots of nature in this land with its pine tree woods, woodlands and the suggestive countryside with its many fragrances and colours and beautiful country roads like viale di Bolgheri, an ideal place forwalking, cycling or horse riding.
Bolgheri also boasts the WWF Oasis that has taken on an international relevance. Also important are the Magona Park with its biogenetic oasis and the Park of the Livorno Hills of much naturalistic interest.
Wine bars, taverns and restaurants propose typical products of the local gastronomic tradition, accompanied by excellent Bolgheri wines for the delight of tourists.
The Etruscan Coast has a lot to offer also in terms of Wellness and Relax: the Terme di Venturina Spa, from Etruscan-Roman times, has a natural spring with water at 36°.
Leghorn (Livorno), that was designed by the Medici in 1500 as an "ideal city", is well worth a visit. The famous Aquarium has an exhibition route that represents a veritable journey into the Mediterranean.
Leghorn's relationship with the sea is recalled in its history, traditions, culture, marine sports and in the gastronomic traditions.
The charming Island of Gorgona, west of Leghorn, is one of the most beautiful of the Tuscany archipelago. The island is occupied partly by the prison but it is accessible through organised trips to discover theMediterranean scrub it is rich in and the crystal clear waters around it.
Then there are many museums worth a visit like the Castle and City Museum at Piombino, the Archaeological Museum of Cecina, the National Archaeological Museum of Castiglioncello and the Museum of natural History of the Mediterranean at Leghorn, just to mention a few.