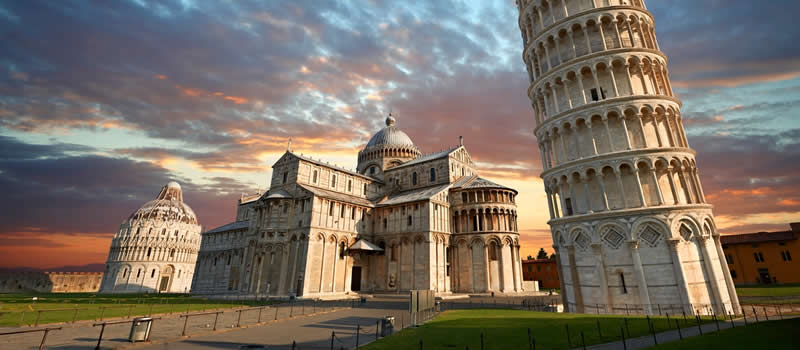 Distance from Antica Fonte Resort: 86 km
In the past, a Maritime Republic like Amalfi, Venice and Genoa, Pisa is one of the most popular tourist towns of Tuscany, which certainly does not need any introduction.
The most important tourist and artistic attraction of Pisa is the famous Cathedral Square, better known as Piazza dei Miracoli, since 1987 proclaimed World heritage by UNESCO.
In the Square tourists from all over the world admire the monuments that form the centre of the religious life of the town, such as the Cathedral, Bell Tower and Baptistery, veritable masterpieces of European Romanic art.
The heart of Piazza dei Miracoli is the Santa Maria Assunta Cathedral, i.e. the Medieval Cathedral.
The Bell Tower is famous all over the world as the "Leaning Tower" or simply the "Tower of Pisa" which is the Cathedral bell tower. This universally famous masterpiece attracts tourists because of its peculiar gradient due to the sagging of the ground that has caused the tower to lean by a few degrees.
Pisa also boasts the largest Baptistery in Italy with exceptional acoustics.
But the visit to Pisa should not be restricted to the centre with the marvellous Piazza dei Miracoli: in fact the Walls are part of the town's tourist attractions. Along the path of the old City Walls there are some highly interesting monuments like the many gates, Piazza delle Gondole and the Nerone Baths.
On the Lungarno Medici the Palazzo Medici can be admired.
A famous university city, Pisa swarms with sounds, colours and voices of students and tourists who mingle along the characteristic streets and make the atmosphere of the town so particular, a town that retains all the ancient charm yet at the same time offering all the conveniences and services of a modern city.
Clubs, typical restaurants, wine bars and trattorias animate the night life and offer the best of Tuscany tradition.