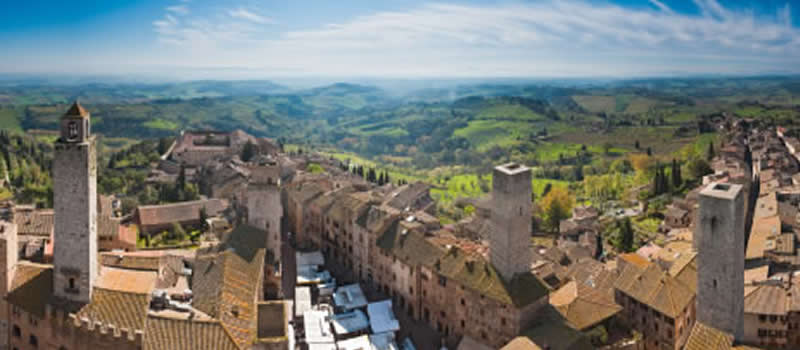 Distance from Antica Fonte Resort: 21 km
Defined a "Fairy Tale Town" and proclaimed a World Heritage of Humanity by UNESCO, San Gimignano is a medieval town famous all over the world for its Vernaccia and its Towers.
San Gimignano saw heavy development in the Middle Ages due to the Via Francigena that crossed it.
Originally the town had 72 Towers but they were destroyed in wars and various battles. At present the Towers are 13 and offer an unforgettable sight to visitors, fascinated by their suggestive beauty. The Torre Grossain Piazza del Duomo is the highest one (54 metres). The Towers were the symbol of the power of the wealthy families who could show their economic power by building a Tower-House.
San Gimignano boasts priceless works of art kept in the Churches and Convents.
The Cathedral is the Collegiate Church and has works of art and frescoes of the Florentine School.
In 1300 Dante Alighieri, the Ambassador of the Tuscany League, was at San Gimignano and now it is possible to see the Dante Room in the Town Hall.
Also worth a visit is the Archaeological Museum with its medieval, Roman and Etruscan findings.
Works by Pinturicchio can be seen in the Picture Gallery and in the Municipal museum.
At San Gimignano there is also a Modern and Contemporary Art Gallery.
In the many Wine Cellars, Restaurants and Wine Bars of San Gimignano you can sample Vernaccia, a precious white wine, ideal to be savoured in the marvellous landscape this enchanting medieval town offers with all the charm of days gone by.